Dental Implants: An Unparalleled, Long-Term Solution for Missing Teeth
Smile restoration procedures are only as good as the dental implant that anchors the component in place. Perimeter Dental combines top quality implants with tenured oral surgery experience to create an excellent, long-term dental implant solution.
Implants
If you have suffered tooth loss, dental implants and implant-supported restorations can repair the aesthetics and functionality of your smile. The strength, durability, and versatility of implants makes them the most trusted solution for tooth replacement. In addition to restoring your smile, dental implants can protect your oral health by stimulating the jawbone and preserving its structure.
With Dr. Matt's Air Force training, he is experienced in placing dental implants and can provide a custom crown, bridge, or denture at our office in Dublin, OH. With more than 1,300 hours of continuing education, Dr. David Scurria has the knowledge and expertise needed to design natural-looking restorations that fit comfortably and securely in your smile.
What Is A Dental Implant & Why Is It Necessary?
A dental implant is a surgically placed component that works in conjuncture with the jaw to support every day dental function. Crowns, bridges, dentures, they are all designed to help restore functional and aesthetic, but when teeth are missing, a dental implant is necessary to anchor the component into place. A dental implant is, essentially, an artificial tooth root.
How Long Is Dental Implant Surgery Recovery?
After surgery, you will have to wait until your implant has fully integrated with the bone before we can attach your custom restoration. The implant will fuse with your jawbone, forming a strong foundation for your crown, bridge, or denture. Once this process is complete, you will return to our office to receive your restoration. During this integration process, there is virtually no pain.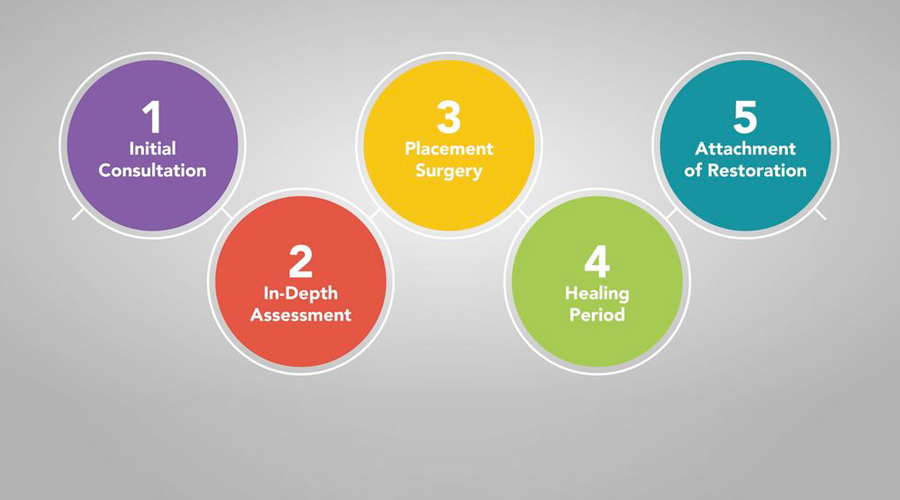 The Recovery Timeline Depends Heavily On:
How many teeth were operated on
How many individual procedures were performed
Overall bone health
Whether or not you need additional bone grafts
After the procedure, we will provide you with a number of rules and restrictions to ensure a speedy recovery.
Some of these tips include:
Avoid smoking
Gravitate toward soft foods for at least a week
Brush your teeth & the implant often
Wait four days before going back to your normal exercise regimen or undergoing any strenuous activity (extra movement & exertion can cause bleeding, discomfort, etc.)
Toggle Accordion Content
Have additional questions about our dental implant specialists or the restoration process? Looking to restore your smile to its natural beauty and vibrance?